You are here -> Home | Open & Sale Banner Flags Australia

Teardrop Banner
Double Sided
Everything included!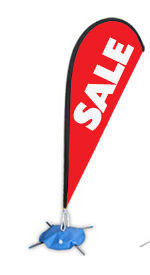 Feather Banner
Double Sided
Everything
included!



Promotional Banner Flags
Everything you need included!
WHY CHOOSE US?
FEATURES:
​
No Hidden Costs - Everything Included!

High Quality Components and banner material for longer lasting performance

Viper Flex™ Technology - No more snapping or creasing poles - Our poles are 100% Super Flexible fibreglass throughout with interlocking pole components for high performance bending and flexing and wind control.
​
Quality "UV Stable" Dye Sublimation printing.
​
Weather Proof - I'm happy to live outside.
​
Sewn edges plus reinforced pole guide webbing for strong seams and durability!
​
Swivel foot spigot - flag faces wind direction making the banner flag more stable in windy conditions.
​
Twelve month warranty on hardware components.





SALE & OPEN Banners, Promotional Street Banners.
Choose from our Pre-Designed Flags - No artwork Charge! Professional Quality, designed for outdoor use printed with UV stable inks, weather proof, easy to assemble, compact carry case for easy transport. Choose from three great designs.
We Deliver Banner Flags Australia-wide.
Exhibition Quality Custom Printed Coffee Shop / Cafe Banner Flags - with Viper Flex Fibreglass Technology
High Quality Materials, Great Price!
Custom Printed Coffee / Cafe Banners - Sydney, Melbourne, Brisbane, Canberra.
Quality Rectangular flags / Teardrop Banners, Feather Banners / square wind flags / wind flags / flying banners:- great for attracting customers to your sale property.
Ground Spike option available for quick and easy installation on grass areas on the footpath, or cross feet for hard ground surfaces.
We can also prepare custom designs for your coffee shop or cafe.
Category: Open Banner Flag, Sale Banner Flag, Teardrop Banners, Retail Banners, Open & Sale Street Flags, Printed Banner Flags Sydney, Melbourne, Brisbane, Canberra.
SALE & OPEN BANNER FLAGS
PRE-DESIGNED FLAG PRICING, ENQUIRY FORM, SPECS.
SALE & OPEN Banner Flag Pricing
Based on our standard designs or your own print ready artwork. Delivery extra*. All Pricing Includes GST.
*Delivery Charges to Sydney, Brisbane, Melbourne Metro Locations.
Delivery Add: $49.50 for 1-4 flag sets / $77.00 for 5-10 flag sets GST inclusive (Standard Bases Only)
What's included in the price?
​
Print Ready Artwork handling* - YES
​
Banner Flag Printing - YES
​
Viper Flex Rods - YES
​
Hard Ground Cross Feet - YES (normally an optional extra from other companies)
​
Water Bag Weight - YES
​
Padded Transport Carry Bag - YES
Free Options: You can even swap the cross feet option for a Ground Spike, Base Plate or Car Wheel Base at no extra charge!
Delivery charges apply.
Specifications
SMALL TEARDROP BANNER SIZES
Stand Height: 2200mm
Image Area: 1860 x 760mm
MEDIUM TEARDROP BANNER SIZES
Stand Height: 3500mm
Image Area: 2750 x 970mm
LARGE TEARDROP BANNER SIZES
Stand Height: 4800mm
Image Area: 3940 x 1100mm
---
SMALL FEATHER BANNER
Stand Height: 2500mm
Image Area: 2045 x 650mm
MEDIUM FEATHER BANNER
Stand Height: 4300mm
Image Area: 3035 x 700mm
LARGE FEATHER BANNER
Stand Height: 5300mm
Image Area: 4200 x 800mm
---
SMALL WING BANNER
Stand Height: 2100mm
Image Area: 1700 x 700mm
MEDIUM WING BANNER
Stand Height: 3000mm
Image Area: 2500 x 700mm
LARGE WING BANNER
Stand Height: 4200mm
Image Area: 3300 x 700mm
---
All colours are printed CMYK. PMS colours may be supplied as a reference for printing. If PMS colour matching is required, a sample swatch can be printed at a cost of $100.00 per PMS colour plus GST. All deliveries are despatched via courier - please note that we do not take responsibility for any delays caused by third party couriers.
Enquiry Form
Use this form to request addition product information and to confirm total pricing with delivery.
Sale and Open Shop Banners Australia - high quality Sale, Open, Promotional Banners - Sale, Open branded feather banners, teardrop banners. Our teardrop and feather promotional flags are reinforced along the seam with strong webbing for durability. We provide quality flags and banners to leading Australian companies. Ask about our Teardrop Banner Templates to help you prepare your flag artwork! Need artwork assistance? Our talented team can help with all your design and artwork production needs. What is a wing Banner - a promotional free standing rectangular banner flag in the shape of a plane wing normally square.
Sale Banners
Open Banners Sydney
Sale Banners Melbourne
Open Banners Brisbane
Sale Banners Australia
Open Banners wholesale
Sale Flags
Open Flags Sydney
Sale Flags Melbourne
Open Flags Brisbane
Sale Flags Australia
Open Flags Canberra
Sale Flags Cairns
Open Flag Banners
Sale Flag Banners Sydney
Open Flag Banners Melbourne
Sale Flag Banners Brisbane
Promotional Feather Banner
Open Teardrop Banner
Sale Footpath Banners
Open Feather Banners
Sale Flag Banners
Open Teardrop Banner
Sale Footpath Banner Flags
Retail Banner Flags
Retail Promotional Flags
Copyright © 2007 - 2017

All Rights Reserved | Warranty Information | Terms and Conditions and Disclaimer